Open your MS Word and apply the following format:
Page Layout:
a. Size – 8.5 by 13 inches;
b. Margins – Normal, 1 inch all sides;
c. Font and Font size – any easily readable font, font size 14 is recommended; and
d. Spacing - Single Space.
When the layout is complete, just follow the following sample:
---
SPECIAL POWER OF ATTORNEY
KNOW ALL MEN BY THESE PRESENTS:
THAT I, (PRINCIPAL'S COMPLETE NAME), of legal age, Filipino, and a resident of ________(Complete address)__________________________, Philippines, do hereby NAME, CONSTITUTE and APPOINT (ATTORNEY-IN-FACT'S OR AGENT'S NAME), also of legal age, Filipino, and a resident of ________________(Complete address)______________________, Philippines, to be my true and lawful Attorney-in-fact, for me and in my name, place and stead, to do and perform all or any of the following acts and deeds, to wit:
(Specific acts to be undertaken by the Attorney-in-fact or agent, the more specific the task is like to transfer a property involving an Estate, the better. You can describe the things involved or the process to be done);
To represent me with any person, agency and/or office with regards to (refer to no. 1), or any acts in furtherance thereof;
To make, sign, execute, deliver or receive any documents, and give payments in relation to (the acts needed to be done);
To delegate in whole or in part any or all of the powers herein granted or conferred, by means of an instrument in writing, in favor of any third person or persons whom my said attorney-in-fact may select; (add this only if you want to give power to your agent to re-delegate the task to others.)
And, to do all other acts necessary to pursue the foregoing authority. (The catch all phrase you add if you feel there is something you can miss out)
HEREBY GIVING AND GRANTING, unto said Attorney-in-fact full power and authority necessary or proper to be done in and about the premises, as fully to all intents and purposes as I might or lawfully could do, if personally present, hereby, ratifying and confirming all my said attorney-in-fact shall lawfully do or cause to be done under and by virtue of these presents.
IN WITNESS WHEREOF, I have hereunto affix my signature this (Date), at (City/Municipality/Province), Philippines.
(Signed)JUAN DELA CRUZ) (Signed)JUANA DELA CRUZ)
Principal Attorney-in-fact
(Insert Gov't issued ID No. Here) (Insert Gov't issued ID No. Here)
Signed in the presence of:
(complete name of witness and signature) (complete name of witness and signature)
A C K N O W L E D G M E N T
REPUBLIC OF THE PHILIPPINES)
CITY/PROVINCE OF ________ ) S.S.
x---------------------------------------------------------x
BEFORE ME, A Notary Public for the City and Province of _________, this ___ day of _________, 202_, the principal herein, whose name and personal circumstances are stated above, personally appeared before me, identified by exhibiting and presented to me a competent evidence of identity written below his/her name, presented the foregoing document, signed the same in my presence and affirmed under oath to the contents or allegations of the same and acknowledged to me that the same is her own free and voluntary act or deed.
WITNESS MY HAND AND SEAL on the date and at the place above written.
Doc. No.__
Page No.__ NOTARY PUBLIC
Book No.__
Series of 202_.
---
---
(Advertisement)
Protect your property, self and others. For your insurance needs, click here.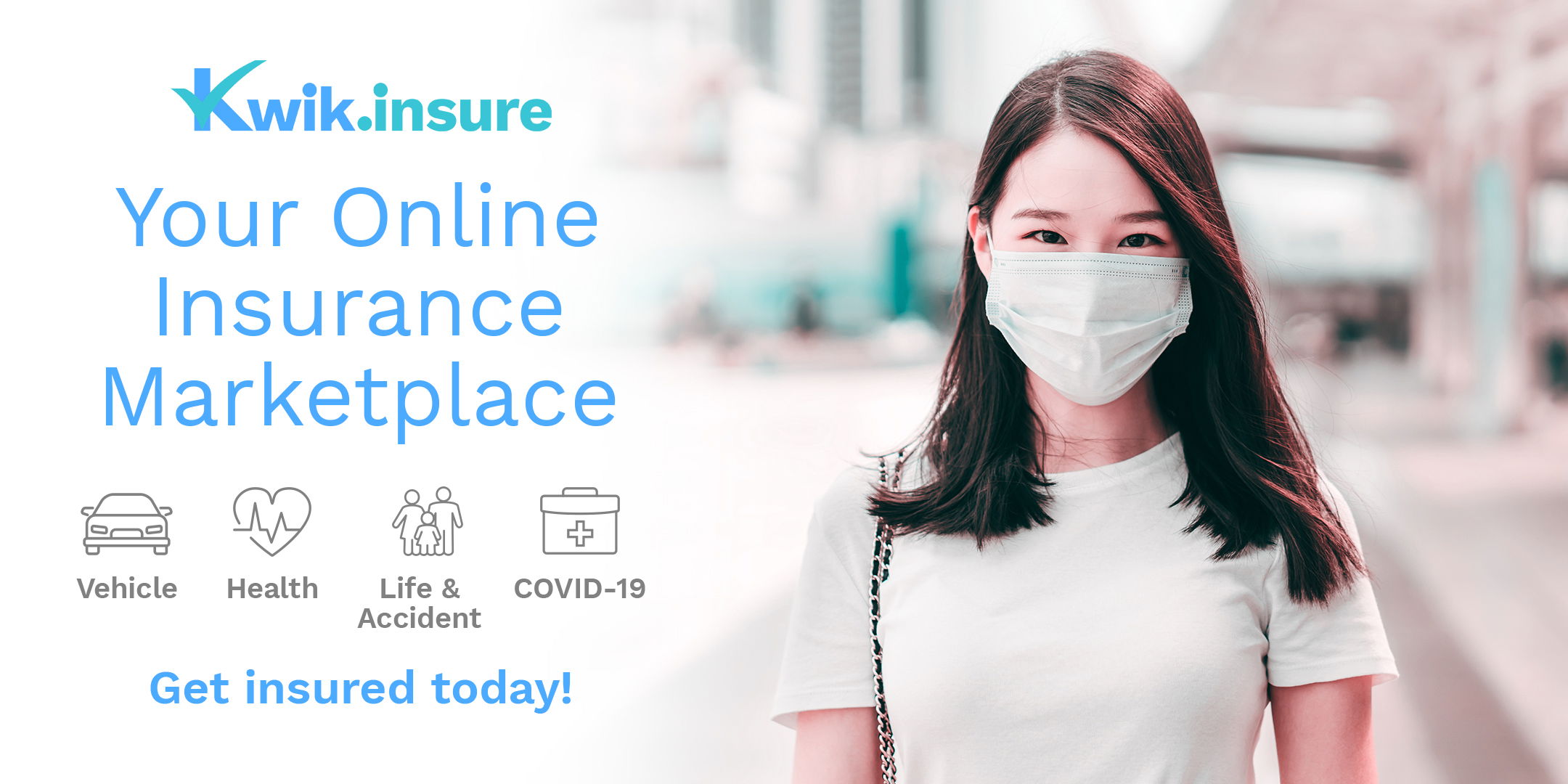 Protect yourself and your loved ones from this Pandemic. A covid-19 insurance will work best for you, learn more.
---
You can download a sample of a Special Power of Attorney, below: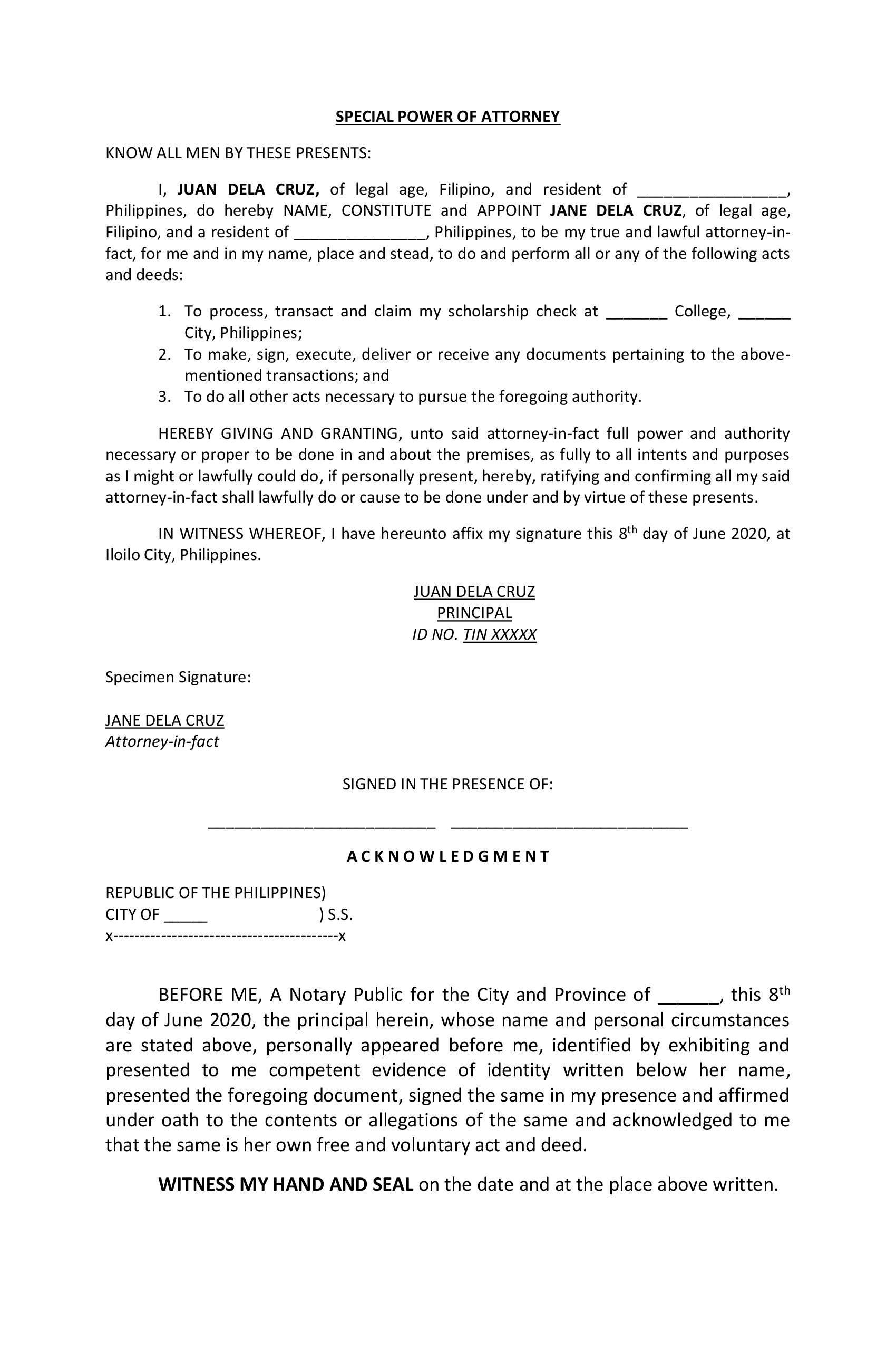 When everything is done, print at least four (4) copies and the Principal must acknowledge the same to the Notary Public.
For comments or suggestions, you can leave a comment below or leave us a message. Also, please like our Facebook page and subscribe to be notified of more updates.