---
(Ad)
Getting insured is now easier than ever. From vehicle, health, and life insurance brought to you by trusted, reliable and on-top-of-the-market insurance companies, compare and choose the perfect plan that fits your need and pay using available hassle-free payment options, learn more here.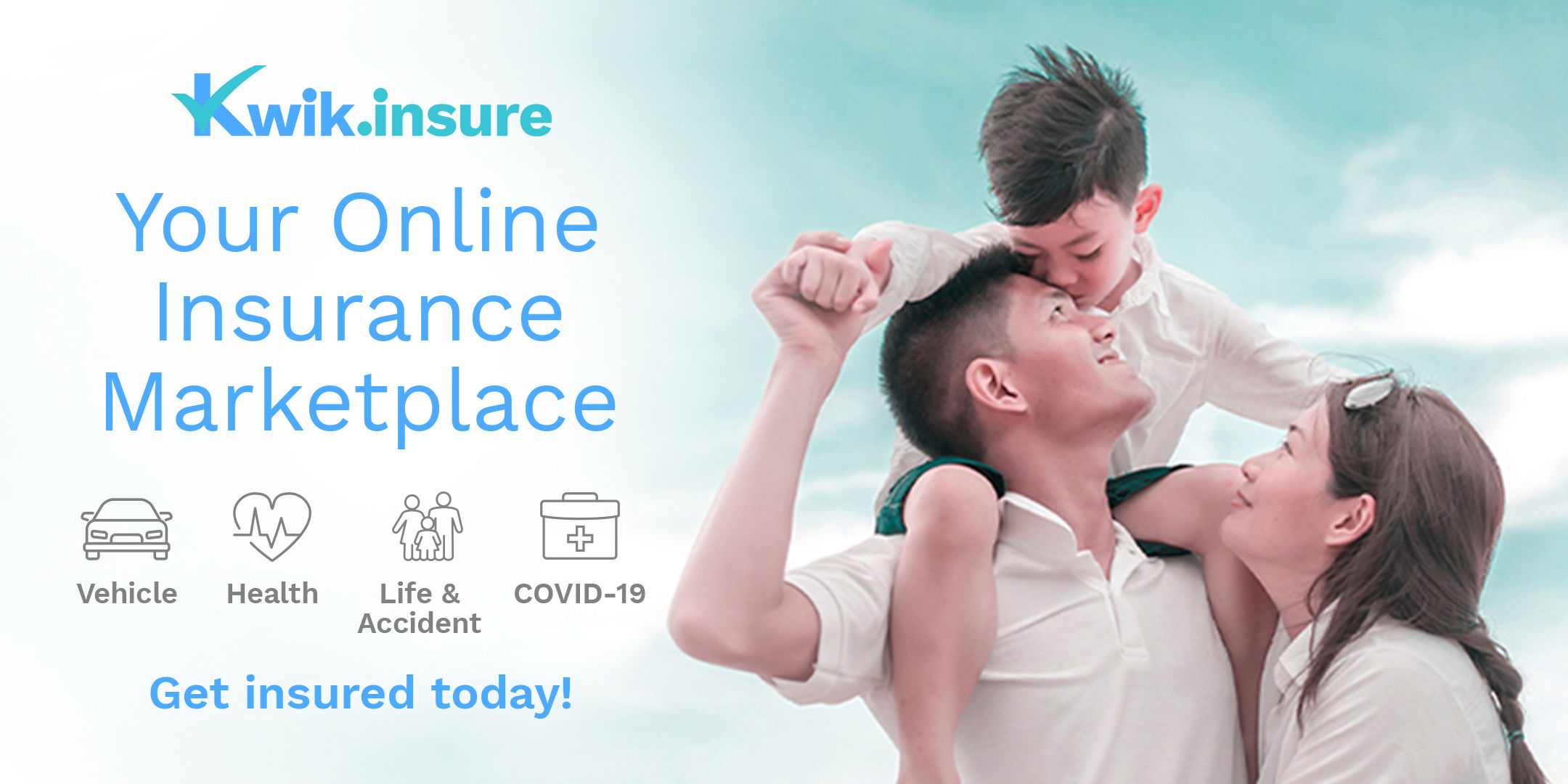 ---
Open your MS Word and apply the following format:
Page Layout:
a. Size – 8.5 by 13 inches;
b. Margins – Normal, 1 inch all sides;
c. Font and Font size – any easily readable font, font size 14 is recommended; and
d. Spacing - Single Space.
When the layout is complete, just follow the following sample in writing your affidavit of own damage to be used for an insurance claim:
---
REPUBLIC OF THE PHILIPPINES )
CITY AND PROVINCE OF ________ ) S.S.
x - - - - - - - - - - - - - - - - - - - - - - - - - - - - - - - x
AFFIDAVIT
I, (VEHICLE OWNER/POLICY HOLDER'S COMPLETE NAME), of legal age, (civil status), Filipino and a resident of (Complete Address), Philippines, after having been duly sworn to in accordance with law, do hereby depose and say that:
I am the registered owner/driver of a motor vehicle ____________ with plate number __________;
On and about ________________, in the morning, while I was driving about to go out in the gate of our house, the gate suddenly move due to strong winds;
Because of this, the gate struck the lower right side of the above mentioned vehicle;
Upon checking, I immediately noticed the damage specifically on the lower right side of the bumper and also on the lower right side of the door; and
I attest to the truthfulness of the above facts and I am executing this affidavit in order to recover insurance proceeds and for other legal purposes as it may serve.
IN WITNESS WHEREOF, I have hereunto set my hand this ___ day of ________, 202_, at ___________, Philippines.
(Signed)________________________
Affiant
J U R A T
The affiant whose name and personal circumstances are stated above, personally appeared before me this ___ day of ________, 202_, in the City of _________, Philippines, presented the foregoing affidavit, signed the same in my presence and affirmed under oath to the correctness of the contents or allegations of the same.
The affiant was identified by competent evidence of identity, namely a Driver's License with No._________________ bearing his/her photograph and signature.
WITNESS MY HAND AND SEAL.
Doc. No. _ ;
Page No._; NOTARY PUBLIC
Book No. ;
Series of 202_.
---
Here is a free downloadable sample template of the Affidavit of Own Damage, docs format: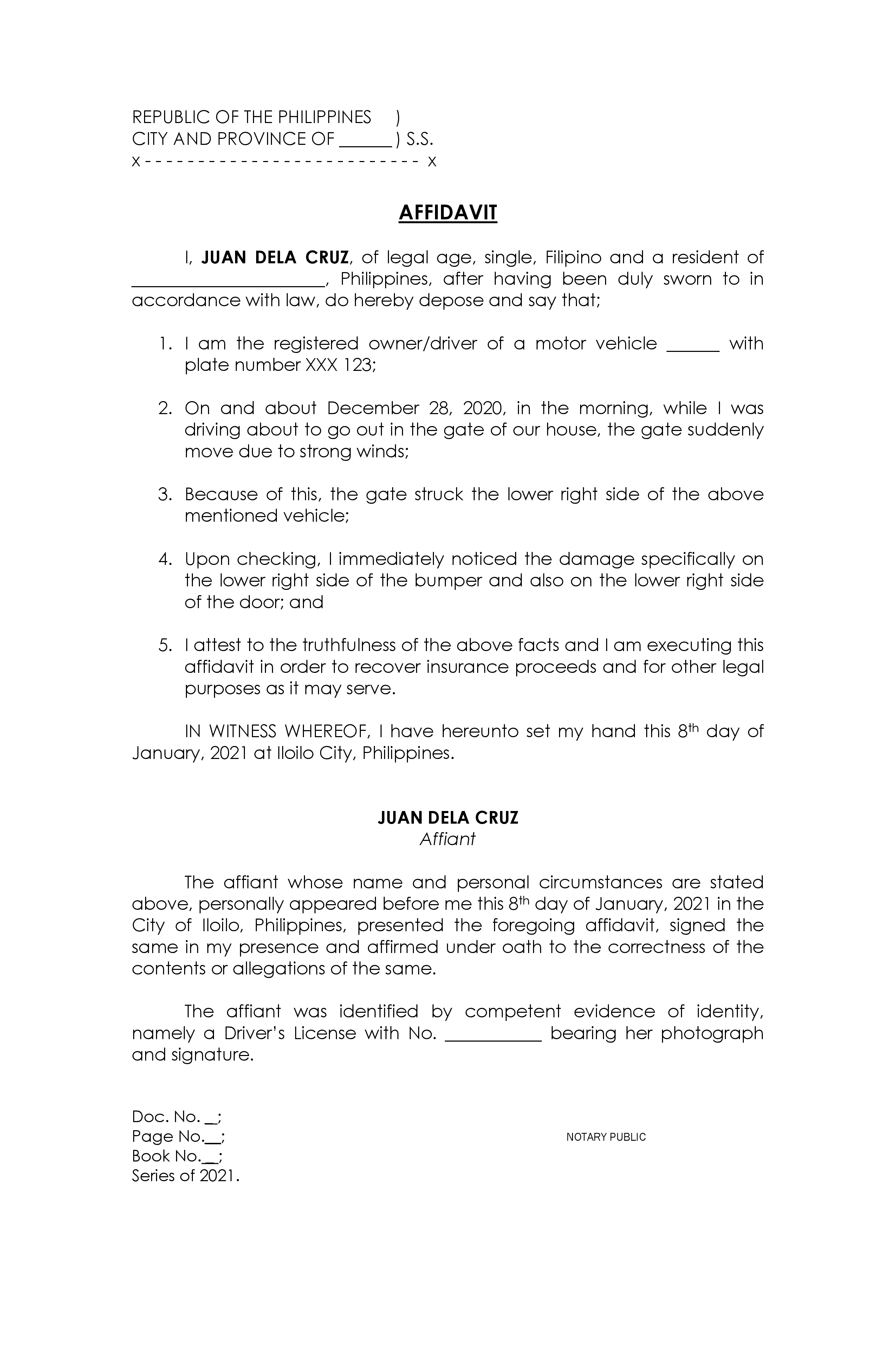 Q: Why is my affidavit of own damage was not accepted?
A: Oftentimes, an affidavit of own damage was not accepted because it states a provision wherein a third party is involved or has a contributing factor for the damage caused to the property.
Q: What is the prescribed period to file an insurance claim?
A: Within one (1) year from the time of the incident.
Q: Who is authorized to file the claim?
A: It should be the owner of the property involved or the person injured its assigns or predecessor in interest or its authorized representative.
When everything is done, print at least four (4) copies and the Affiant must acknowledge the same to the Notary Public.
For any suggestions, you can leave a comment below or leave us a message. Also, follow us on Pinterest and subscribe to be notified of more updates.